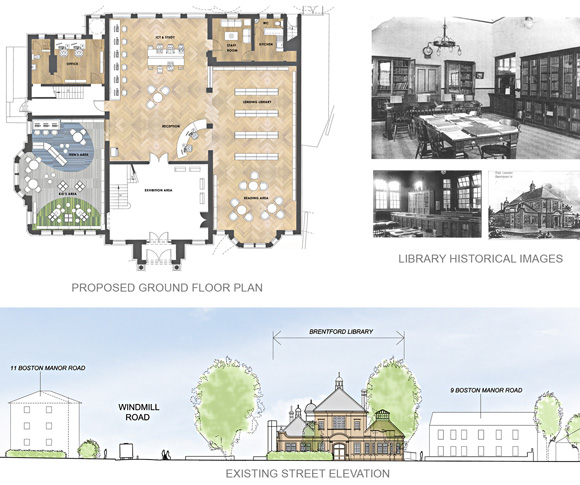 BRENTFORD LIBRARY
The Brentford Library was constructed in 1903 by Novell Parr (1864-1933) who was appointed by the Brentford Local Board as Surveyor to the Council and later as an architect. The Scottish-American philanthropist Andrew Carnegie had made a grant toward the building on the condition that the town would provide a site and funds for maintenance and administration.
The property is a detached purpose built premises, grade 2 listed building within the St Paul's Brentford Conservation Area. The central section of the property is two storey, with single storey wings to each side.
This building is of traditional solid brickwork construction, with decorative terracotta banding, plinths and quoining. The main roofs and dormers are pitched with a slate tile covering and lead flashings/valleys.
Historical Research and Feasibility Study were carried out for the remodelling of the existing layout. The proposed scheme makes a best use of the existing floor space improving the quality of the internal layout and preserving the original character of Listed Building.